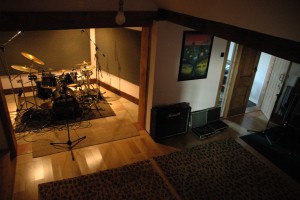 One of the main features of Black Tree is our live room. Solid wood floors, oak beams, solid oak doors & plastered walls; give our live room a rich, warm  ambient sound. Ideal for bringing out the natural tones of any instrument and indeed any band.
The live room is perfect for recording live sessions (old school), Plug in, turn up & play. The beauty of recording a band live is; you capture the energy & performance, that often gets lost in a normal multitrack session. We obviously still record using multitracking, but nothing beats a group of musicians playing live.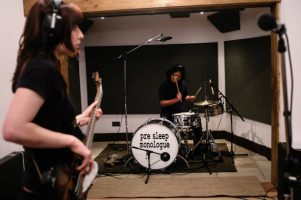 Another great use is recording drums. By placing the kit in the middle of the room & using the combination of close mic's & ambient room mic's you can record a very organic drum kit with a natural room sound. We've even had bands book the studio just to record  drums for their album. As everybody knows; the secret to a great sounding album, is an awesome drum sound.
Full Live Band Recording
Multitrack Drums Sessions
Singer Songwriters & Solo Artists
Vocal & Backing Track
Post Production
Voice Overs
Band Rehearsals
Promotion Video Production
Mastering & CD Authoring